Will Vietnam's brewery industry be swallowed by foreign firms?
A lucrative beer market with expected high growth rates is the driving force for foreign investors to acquire a stake in Sabeco, the largest Vietnamese brewer.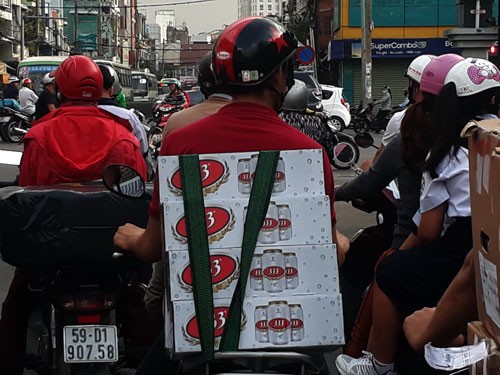 Vietnam is an attractive beer market
The Ministry of Industry and Trade (MOIT) has said that Vietnam Beverage has shown its willingness to buy a 51 percent Sabeco stake. Since the foreign ownership ratio in Vietnam Beverage is only 49 percent, the company can register to buy all the 53.59 percent of Sabeco's charter capital offered by MOIT.

Recent moves all show that the Vietnamese brewer nurtures the ambition to acquire the strongest brand at any cost.

A representative of Sabeco, announcing the auction of Sabeco stake at the starting price of VND320,000 per share, said the sale had caught attention from many big names in the world, including AB-Inbev and Kirin.

The companies sent staff to roadshows in Singapore and the UK, where they raised questions about production, potential and markets.

A representative of Sabeco confirmed that Sabeco had 15 private working sessions with large investors, including manufacturers and finance funds.

Besides Sabeco, MOIT is also gearing up to prepare for the sale of Habeco.

Reuters has quoted sources as reporting that Carlsberg, the foreign brewer holding a 17.3 percent stake in Habeco, is closer to an agreement on acquiring more of an Habeco stake and increasing its ownership ratio in the enterprise.
The large market, the high profitability of Sabeco and the strong Sabeco brand are factors persuading investors to pour money into a Sabeco stake, though they have complained that Sabeco shares have been overvalued.
Analysts commented that Sabeco is desired by the world's large brewers because Vietnam is the largest market in South East Asia with 4 billion liters of beer consumed last year.

The analysts said large brewers in Asia, such as Thai Beverage, are facing a growth slowdown in their home markets which are getting saturated.

The large market, the high profitability of Sabeco and the strong Sabeco brand are factors persuading investors to pour money into a Sabeco stake, though they have complained that Sabeco shares have been overvalued.

Some experts have warned that Vietnam may not be able to retain the brand Sabeco if a large proportion of stake falls into foreign hands.

This may lead to a bad scenario in which the Vietnam brewery industry would be swallowed by foreigners.

In fact, policymakers prevented foreign investors' from seizing Sabeco and Vietnamese companies by setting a limit on foreign ownership (49 percent) and creating a regulation that forces investors to offer purchase prices seven days in advance if they intend to buy more than a 25 percent stake.

However, investors have many different ways to dodge the regulation.

Chi Mai / VietnamNet