Trade surplus: Joy and anxiety
The General Statistics Office (GSO) has announced there was an excess of exports over imports of $2.8 billion in the first 11 months of the year. However, this was overshadowed by the fact that most of the reports came from foreign invested enterprises (FIEs), while domestic enterprise contributions were modest.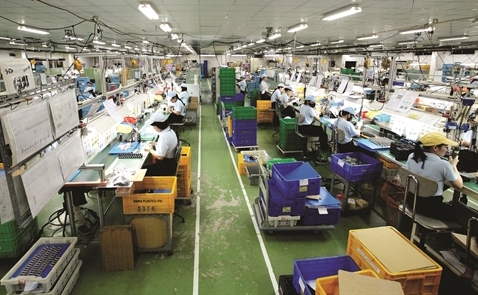 There was an excess of exports over imports of $2.8 billion in the first 11 months
In the first 11 months of the year, FIE exports accounted for 72.6 percent of total export value of Vietnam, while imports accounted for 60 percent. The trade surplus from FIEs reached $26.2 billion, an increase of 33 percent over the same period last year.

Samsung, Foxconn, LG, Panasonic and Intel are among the biggest exporters. Samsung Vietnam alone plans to earn $50 billion from exports. It exported $40 billion worth of products last year.

A report from CIEM (Central Institute for Economic Management) shows that the country's electronics industry has been witnessing a high growth rate of over 30 percent per annum since 2013.

Vietnam has become the 12th largest electronics exporter in the world and the third in South East Asia.

However, the problem is that domestic enterprises are mostly 'out of the game'. In 2016, FIE electronic exports accounted for 95 percent of total electronic exports and 96.6 percent of phone and phone accessories exports.

FIEs are also major exporters in textile & garments and footwear, key export items of Vietnam.

FIEs make up 60-65 percent of total value of the textile & garment industry. The business field attracts a high amount of FDI with $5 billion worth of capital registered in the last five years, according to FIA (Foreign Investment Agency).

Similarly, in the footwear industry, according to MOIT (Ministry of Industry and Trade), more than 80 percent of export value belongs to FIEs.
FIEs lead in the top five export business fields. In a survey conducted by VCCI, seven dong out of every 10 dong worth of export turnover is from FIEs.
A report from GDC (General Department of Customs) found that 90 percent of turnover from machine, equipment and components is from FIEs.

FIEs lead in the top five export business fields. In a survey conducted by VCCI (Vietnam Chamber of Commerce and Industry), seven dong out of every 10 dong worth of export turnover is from FIEs.

Meanwhile, Vietnamese enterprises have great advantages in the export of farm produce and seafood. Most of the names in the list of top 10 seafood exporters are Vietnamese companies.

The 'Vietnamese hallmark' can also be seen in the export of wooden furniture (Vietnamese exports account for more than 50 percent of total export turnover in the industry), cashew nuts (export turnover in the first 11 months far exceeded the turnover in 2016), and vegetables & fruit ($3.2 billion).

Chi Mai / VietnamNet