Pesticide product market dominated by foreign manufacturers
The domestic pesticide market is worth up to $1 billion, but profits all go to foreign companies as 90 percent of products are imports.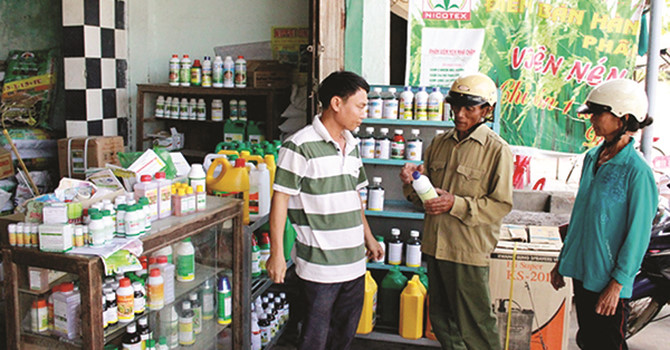 According to the agriculture ministry (MARD), the import turnover of pesticide and materials in May 2017 reached $98 million, while the figure was $400 million in the first five months of the year, an increase of 41 percent compared with the same period last year.
The imports are mostly from China which account for 53 percent of total value of the products. Vietnam also imported pesticides from Thailand, South Korea, Germany and India.
The import volume increased sharply in 2012-2013, when Vietnam imported 55,000-112,000 tons. In 2016, Vietnam imported 100,000 tons.

According to Hoang Trung, head of the Plant Protection Agency, Vietnam has spent $500 million each year in the last five years to import materials and pesticide products from China.

Of these, herbicides accounted for 48 percent (19,000 tons), insecticides 32 percent (16,400 tons), and growth regulators about 900 tons.

Trung said 99 percent of pesticides and 100 percent of chemical-made products used in Vietnam are imports. The other one percent, made in Vietnam, are biological and herb-made products.

There are about 1,700 pesticide active ingredients with 4,080 commercial products.

However, a survey of the Plant Protection Agency found that about 2,000 commercial products are still used, 20 percent of which are biological and herb-made products.

Analysts have said there is no other country in the world which uses as many pesticide products as Vietnam.

There are 200 pesticide enterprises, nearly 100 pesticide processing factories and 30,000 sales agents. However, Vietnam still cannot create a foundation for the pesticide production industry, though the industry has great potential.

Experts say plant protection products will be the major tool for agricultural production worldwide for many more years.

Of the 100,000 tons of products imported every year, 40 percent are re-processed and packed for re-export. It is estimated that 40,000 tons are used in fields in Vietnam.

Enterprises complained that there are many barriers that hinder their investment and production.

According to Le Thi Khanh Hoa, foreign affairs director of Syngenta Vietnam, the barriers are the high investment cost, bad state management which cannot prevent counterfeit products, and the lack of a policy to encourage investment.

Hoa said it takes 10-12 years to conduct research and development for one product, while the total cost for one research project is $260 million. Product developers have to conduct 25,000 tests in laboratories and the field.

Meanwhile, counterfeit products can be found everywhere in the market, which not only affect farmers' health and harms the cultivation process, but also causes big losses to pesticide manufacturers.

Thanh Mai / vietnamnet