Most workers in manufacturing in danger of being eliminated
Seventy-four percent of workers in the manufacturing & processing industry in Vietnam are expected to lose their jobs because of the impact of the fourth industrial revolution, the highest level among ASEAN countries, according to a report from the Central Economics Committee.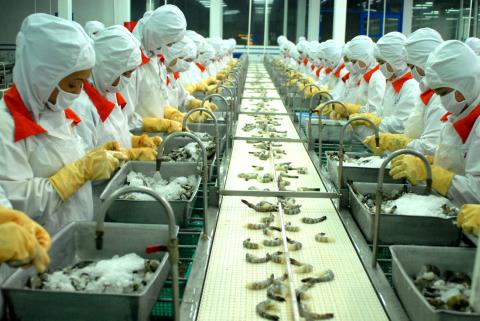 The average productivity was $3,360 in 2015
The report pointed out that 74 percent of workers in the manufacturing & processing industry are expected to be replaced by robots. The figure is higher than the 54 percent of the Philippines, 58 percent of Thailand and 67 percent of Indonesia.

"Vietnam's manufacturing and processing industry has low performance, and workers in the industry do not undergo intensive training. They mostly do assembling or simple work which can be replaced by machines," the report said.

Vietnam has witnessed big changes in industrial structure, with the mining industry on the decrease, and manufacturing & processing increasing from 49.8 percent in 2010 to 50.5 percent in 2015.

Vietnam had 6.6 million workers in the manufacturing & processing industry in 2010, accounting for 13.5 percent, while the figure rose to 8 million workers in 2015, or 15.3 percent of total workers. Most workers in the industry are untrained.

Researchers have warned about the considerable decrease in the number of jobs in administration, processing & manufacturing, and construction industries in the 2015-2020 period.

According to the Ministry of Science & Technology, technological advances are shifting the nature of work, from using manual labor to automatic programming and controlling with high-efficiency machinery. Workers will mainly manage machinery systems instead of being directly involved in the work.
Vietnamese workers at Japanese corporations in Vietnam received very low wages in 2016. Experts said one of the reasons is the low productivity of Vietnamese workers.
JETRO (Japan External Trade Organization) recently released a report showing that Vietnamese workers at Japanese corporations in Vietnam received very low wages in 2016. Experts said one of the reasons is the low productivity of Vietnamese workers.

They cited a report from GSO (General Statistics Office) as saying that the average productivity in 2015 was $3,660, just equal to 4.4 percent of Singaporeans. Every Singaporean worker had productivity equal to that of 23 Vietnamese workers in total.

Vietnamese productivity was equal to 17.4 percent of Malaysia, 35.2 percent of Thailand, 48.5 percent of the Philippines and 48.8 percent of Indonesia.

A report from the World Bank found that Vietnam seriously lacks skilled workers which explains why Vietnam's human resources competitiveness index was 3.39/10 in 2014 and the competitiveness of Vietnam's economy ranked 73th out of 133 countries.

Dao Quang Vinh, head of the Institute of Labor Science and Social Affairs, confirmed that Vietnamese labor quality is low, with trained workers accounting for only 18.1 percent in 2015.

Kim Chi / vietnamnet