Making a meal of veal in an open space
Having grilled veal and a veal hotpot in an open space overlooking the Red River hits all the spots, Moc Mien enthuses.


Inviting: The open air space overlooking the Red River attracts a lot of people.— Photos: Tu Le/VNS
I am a big fan of grilled meat and hotpots, but I am afraid of food smells that linger on my clothes afterwards.

Knowing this, my boyfriend did some research on restaurants having outdoor spaces that could serve my purpose. This led to the discovery of Bo To (Veal) Tai Sanh Restaurant on Bach Dang Street, very close to the Red River.

The restaurant has both indoor and outdoor areas and a stilt house. Of course, we chose an open air table from which we had a view of the river. Nice and romantic setting for a couple, watching sunset on the flowing water.

We immediately felt relaxed and ready for dinner.

As far as we know, veal is a specialty of the southern province of Tay Ninh. The high-quality meat is taken from five to seven-month old calves. They choose young cows weighing 40 to 60kg, so the meat is soft and pliable. Meat from cows weighing more than 40kg is often chewy and less tasty. Gourmets know exactly the difference between beef and veal.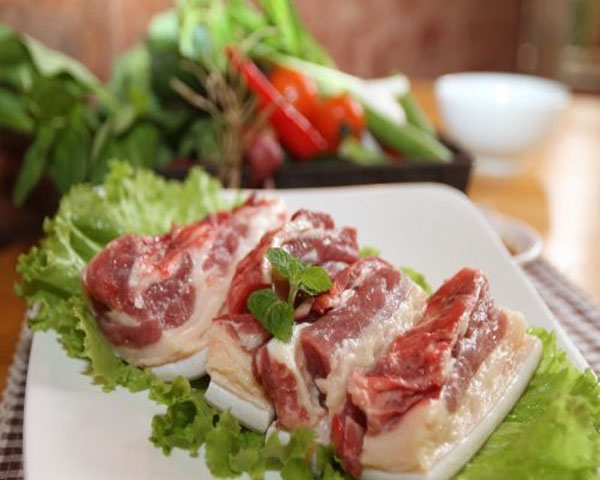 It's raw: Veal plate is seasoned with a little salt then grilled until half-done.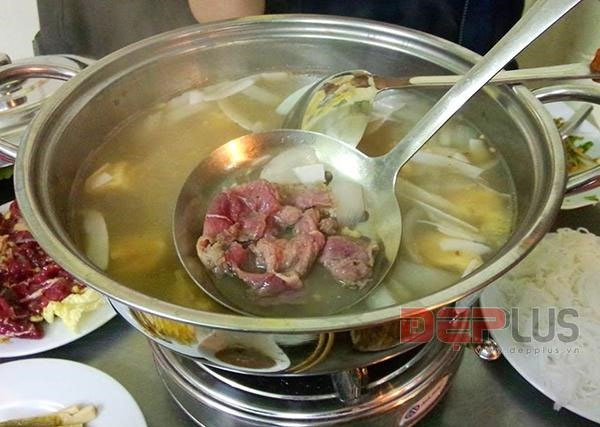 Sour and sweet: Veal in a vinegar hot pot is a famous specialty at the Bo To Tai Sanh Restaurant in Ha Noi.
The restaurant offers a lot of veal dishes. They can be made from a variety of calf organs like plate, chuck, heart, kidney and so on. These are cooked with diverse styles: braised, grilled, parts of salad or porridge, not to mention the hot pot. Diners have a lot of options.

We wanted to enjoy the freshness and unique flavour of veal, so we ordered a whole grilled veal plate (thit ba chi nuong tang). It was seasoned with a little salt and grilled till half-done. When it is brought to the table, the veal was cut into small pieces and served with shrimp paste sauce (mam tom). I loved it. The veal was tender, fatty and the skin was crispy. The flavour and scent of shrimp paste sauce made it more delicious.

Having tasty dishes in a spacious, nicely decorated environment without having to worry about food smells lingering on clothes was a unique experience for me.

The restaurant's owner is thoughtful enough to make a separate space for children to play on their own. Parents do not have to take care of the kids too much, and can focus on enjoying their meal. And other diners are not bothered by kids running around the tables.

We savoured the dish slowly, as we waited for another delicacy to be served: veal in vinegar hot pot. Just hearing the name of the dish whetted our appetites, the word sour, eliciting a Pavlovian response.

The veal stock was not overly sour as pure vinegar is, but a little sweet. It was a sophisticated broth, with stir-fried green onion, garlic, lemongrass and vinegar. The meat put in the stock was the veal plate, so that it was crispy and fatty, making a good match with vegetables.

My boyfriend enjoyed the dish thoroughly. After he put the dry noodles in the hotpot and they absorbed the broth's flavours, it became very tasty.

The sun was going down on the Red River, and in the chill weather, the hot dishes seemed perfect. A nice dinner together in open air was a nice little gift in late spring.
Address: No. 1033, Bach Dang Street, Hai Ba Trung, Ha Noi

Price: VND200,000/ pax

Open: 10am – 11pm

Website: http://www.bototayninhtaisanh.com/

VNS