Going gaga over Cha Ca, quietly
Enjoying cha ca away from crowded, noisy restaurants gives the iconic dish a homely touch.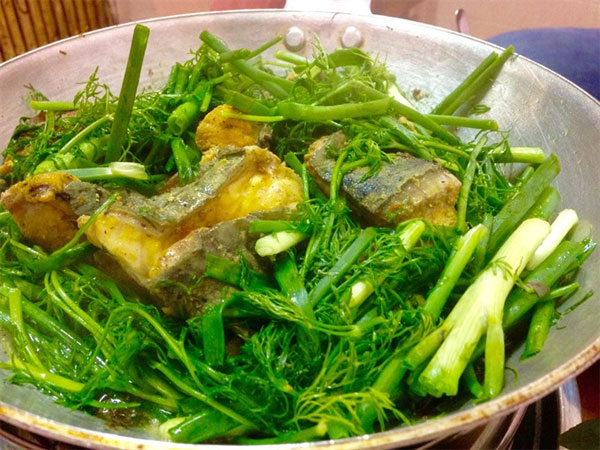 Grilled and flavoured: Golden pieces of the hemibagrus fish seasoned with turmeric and other seasonings.
You can rack your brains for hours, but it is unlikely that you can come up with any street in Viet Nam named after a dish, or an eatery that pioneered and specialised in the said dish.

Apart from Cha Ca in Ha Noi's Old Quarter, that is.

Not many people might know that Cha Ca Street, named after the grilled fish dish that has gained astonishing popularity within and outside Viet Nam over the last few decades, used to be Hang Son Street not too long ago.

Today, the establishment that introduced the dish still rules the roost, and its success has made it a magnet for visitors from all over the world.

As an ardent cha ca fan, I have had this dish at most distinctive restaurants in the capital city, like the Cha Ca La Vong, Cha Ca Anh Vu and Cha Ca Thang Long. However, the enthusiasm has dimmed for having this dish at these crowed and noisy restaurants.

For some time now, I've wanted to enjoy this dish at leisure, because I feel it is the only way to do full justice to it.

I am glad, therefore, to introduce readers to my new favourite cha ca place: Cha Ca Phan at the Ha Hoi Lane on Tran Hung Dao Street.

The place looks more like a residential house than a restaurant because of its simple surroundings and decorations. The restaurant owner, Quach Ngoc Phan, who used to live on Cha Ca Street for decades, moved here years ago, and then continued the family tradition of serving cha ca.

A full set of cha ca, as usual, has spring onions, dill, roasted peanuts, spring onion stalks soaked in vinegar, chilly, special shrimp paste, and grilled lang fish (hemibagrus).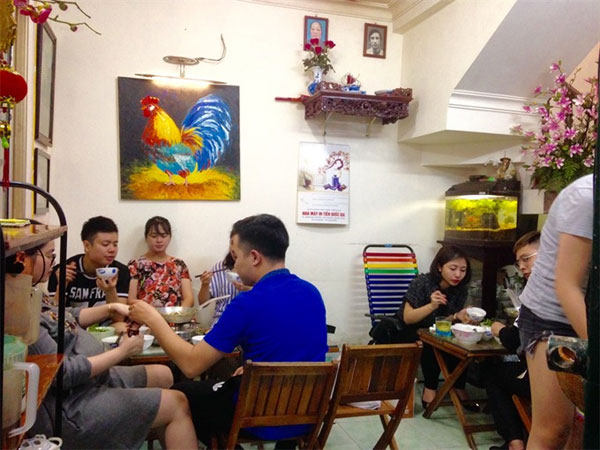 Feel at home: Cha Ca Phan is not a typical restaurant.
While the cha ca meal here is quite similar to other restaurants in terms of ingredients and side-dishes, the difference can just be seen in the way chef Phan Thu Bang, Phan's wife, prepares and serves customers.

She says that the relatively high price of lang fish has prompted many restaurants to switch to ca nheo (sheatfish). However, this cannot compare to the traditional speciality made with the lang fish, she insists.

"The lang fish have firmer texture, and they are tastier and fattier than sheatfish. That is why the dish is known worldwide," said Bang.

Even though it is a small restaurant, the chef seems to be a very picky person. Every day, early in the morning, she and her husband drive to the Long Bien Market to choose the fish, one by one, and prepare it at home. Ready-made fish fillets are never in the list of ingredients. She also insists on buying the shrimp paste, a decisive factor in the success of the dish, from Boong's shop in Hang Be Market.

"The price can be double the normal, but it's worth it," said Bang.

If you have a chance to see the chef make cha ca, from picking the ingredients to grilling the fish and laying a table, you will see how meticulous and careful she is. Every time I come here, I feel as if my mother has given me a special treat.

The freshly grilled fish, seasoned with turmeric, tempered with dill, and spiced with shrimp paste and garlic, mixed with fresh herbs, topped with crunchy peanuts – how can it be anything but delicious? And when you pick this right off the stove, even a singed tongue cannot stop it from being an awesome meal.

Cha Ca Phan also offers fried fish stomach, a rare treat. While many other restaurants use the basa fish for this dish, this eatery stays true to lang fish. A very small amount of this fish stomach is processed everyday, so you have to come early in the morning or at noon to try this. The extra effort is worth it.

The restaurant also springs a sweet surprise with a free dessert that is also a signature dish: clear coconut jelly that is a perfect way to round off a cha ca experience, rain or shine.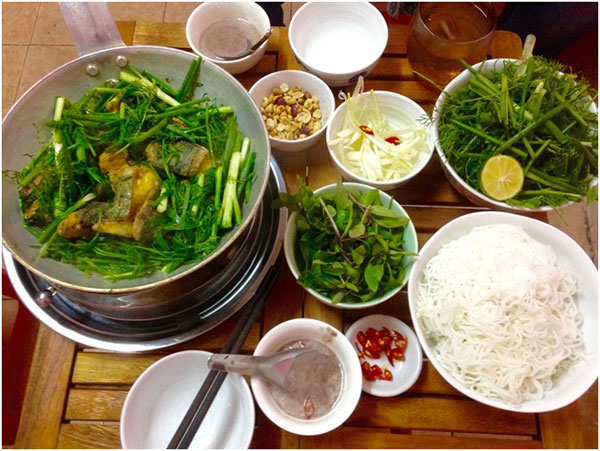 The works: A full set of cha ca.
Cha Ca Phan

Address: 20 Ha Hoi Gate, Tran Hung Dao St., Ha Noi

Open time: 10am-10pm

Price: VND120,000/set

Hoang Linh