Gio sausage roll: meat pounded to perfection
If rice is a staple of Vietnamese daily meals, then gio (Vietnamese sausage) is considered the staple of special occasions, such as Tet (the Lunar New Year), wedding parties and ancestors' death anniversary.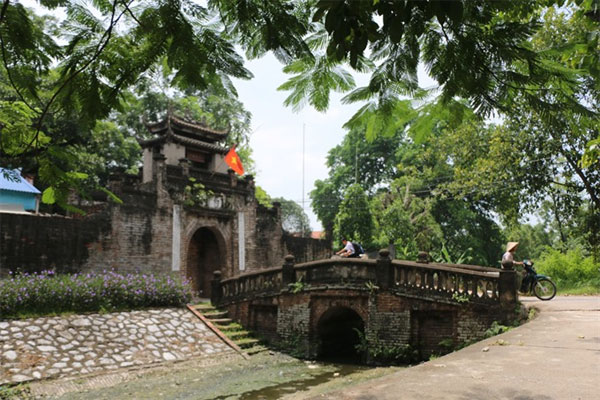 Genesis: The best quality gio can be traced to Uoc Le, a tranquil village about 30 kilometres from Ha Noi's centre. — VNS Photo Doan Tung
Traditionally, gio is made from minced lean pork tightly encased in fresh banana leaves rolled into a cylindrical shape and boiled. A roll of gio is then cut into slices about 2 centimetres thick and then cut into smaller parts before being served.

On the week-long Tet holiday, the most important celebration on the Vietnamese calendar, almost every family will partake of a roll of gio, along with banh chung (square sticky rice cakes) and boiled chicken.

Decades ago, meat was scarce and only served on special occasions. On ancestor death anniversaries, for instance, the women of the family would prepare an elaborate set of dishes, among which xoi (steamed sticky rice), boiled chicken and a plate of neatly-placed gio slices were a must.

Unique dish

Nguyen Tuan (1910-1987), known as one of the most influential writers of the 20th century, wrote proudly about this dish in Gio Cha (Vietnamese Sausage). "Pork is a ubiquitous food. Except in those countries where pork is taboo, people all over the world have eaten pork and tried to find different cooking methods suitable to their tastebuds," he wrote, adding, "we are quite creative. We use pork to make gio, for example. It's not boasting to say that among the countries consuming pork, only Vietnamese have this unique dish."

In his writing, Tuan cited Líu, an old native of Ha Noi's Uoc Le Village with 60 years of experience in making gio. According to Líu, pounding pork is an important step and gio makers must concentrate intensely on this job.

Líu recalled that when he made gio in the old days, before electric fans were available, he was covered in sweat but even when a mosquito bit him, he had to keep pounding the meat. The pounding need not be strong, but it must be steady and lengthy. Listening to the sound of pounding, one can tell whether the batch will turn out well. Líu said that when his hands tired, he would signal his grandchildren to pour some wine into his mouth.

"In my childhood... these Uoc Le natives would travel throughout the city, roaming the small alleys, to sell gio and find families that are about to have a party or ancestors' death anniversaries to offer them gio," wrote Nguyen Tuan.

"Gio come in different sizes — there are slices that are 7 centimetres or 12 centimetres thick, they also sell small slices that are as thin as a cat's tongue. On days when I was a well-behaved kid, my grandmother would buy me the thin slices and put them at the bottom of the rice bowl, so that I would not eat them before eating the rice," he wrote.

Uoc Le Village

The best quality gio can be traced to Uoc Le, a tranquil village about 30 kilometres from Ha Noi's centre.

There are no official documents about the genesis of gio in the village, yet according to 65-year-old native Nguyen Van Mui, head of the village senior citizens association, Uoc Le people have been making gio for at least 100 years.

Currently, more than 90 per cent of village households still make gio. "As people in our neighbourhood alone can't consume such large amounts of gio, villagers have to migrate to other regions to sell their products," said Nguyen Viet Tuong, head of Uoc Le Village. "Uoc Le people are now present all over the country. They return on special occasions only."

"Doing this job requires hard work. People have to wake up as early as 3am. The high quality of our gio is attributed to several factors. One of them is the meat," said Le Tien Manh, a 45-year-old Uoc Le-based gio maker. "The type used in making gio must be lean meat, fresh and a bit sticky on its surface."

Fish sauce and seasoning are added to the minced meat before the mixture is encased tightly in layers of banana leaves, which give the gio a unique taste. The fresh minced meat is well blended with the tartness and slight bitterness of the fresh banana leaves when they are boiled.

"It takes about an hour to get the mixture finely cooked. One can tell if gio is well-cooked by throwing it onto a hard surface. If it bounces, the gio is good," said Manh.

The peak time for gio makers is in the lead up to Tet. "Their business are busy till the last day of the year. And only by the 30th of the 12th lunar month, Uoc Le people can travel to their home village to prepare for the biggest celebration of the year," Tuong said.

"This is the time for family and friend reunions of those who live far from their home village. On these first days of the new year, people gather, hold parties and talks about their work and life after a long hard-working year," said Tuong.

Other variants of gio include cha (a mixture of minced pork deep fried with pepper or cinnamon) and gio bo (beef sausage). They are all eaten generally with rice, xoi (steamed sticky rice), banh cuon (steamed rice pancakes) or banh mi (Vietnamese baguette).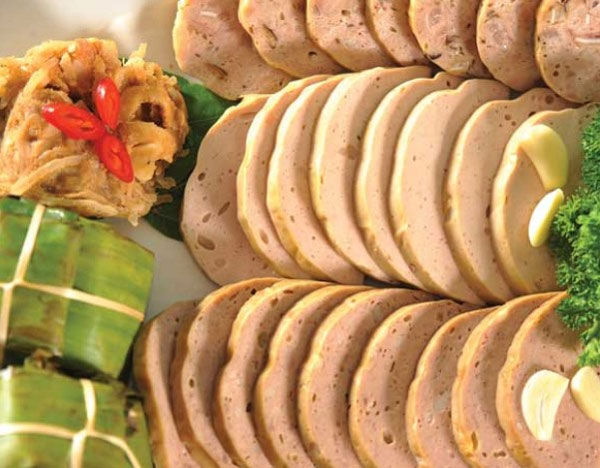 Delicious: Traditionally, gio is made from minced lean pork tightly encased in fresh banana leaves rolled into a cylindrical shape and boiled. A roll of gio is then cut into slices about 2 centimetres thick and then cut into smaller parts before being served. — Photo baotintuc.vn
Varieties: Another variant of gio is cha (a mixture of minced pork deep fried with pepper or cinnamon). Gio and cha are eaten generally with rice, xoi (steamed sticky rice), banh cuon (steamed rice pancakes) or banh mi. — VNS Photo Doan Tung
Hong Van
VNS