Chinese furniture manufacturers relocate to Vietnam
Chinese wooden furniture enterprises are considering setting up their production bases in Vietnam, raising worries among domestic manufacturers.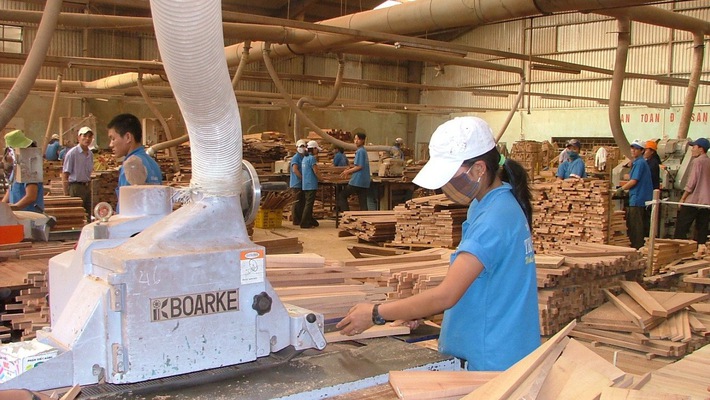 Vietnam's woodwork exports may bring $8 billion in 2017
Chair of Tianjin Furniture Association Gao Xiu Zhi told the local press on the sidelines of an event on trade and investment promotion with Beijing, Tianjin and Hebei held in HCMC December 6 that the member companies of the association now want to relocate their production to Vietnam.

She said the labor cost in China has been increasing rapidly, while pay for Vietnamese workers is lower.

Also, Vietnam is cutting tariffs under commitments in international trade treaties, which has prompted Chinese manufacturers to set up workshops in Vietnam and make products for export. The products will bear Vietnamese origin.

Gao Xiu Zhi said many Chinese businesses plan to create come to Vietnam to seek investment opportunities. Most of their enterprises have large production scale. Tianjin City alone has 7,000 wooden furniture enterprises including 3,000 manufacturers.

The director of a Vietnamese furniture corporation said Chinese manufacturers visited Vietnam to avoid anti-dumping duties imposed by the US on imports from China.

"They want to continue exporting wooden furniture products to the US, a vast market with value of $30 billion per annum," he said.
Vietnam's woodwork exports in 2017 may bring $7.8-8 billion, higher than the targeted $7.3-7.5 billion. The US, China, Japan, the EU and South Korea are the biggest export markets.
A report shows that China exports $10 billion worth of woodworks to the US, much higher than Vietnam's export turnover of $2 billion.

However, as products with Chinese origin have high anti-dumping duties, they have become less competitive in the US market.

In such conditions, Chinese hope they will be able to avoid tax if they shift production to Vietnam.

Huynh Van Hanh, deputy chair of the HCMC Handicraft and Wood Industry Association, commented that though the US had not joined join TPP and CPTPP, Chinese will still continue making investments in Vietnam.

He noted that Chinese began thinking of relocating their production bases to Vietnam two years ago to enjoy the preferential tariffs that importing countries offer to Vietnam under free trade agreements.

Hanh said the imposition of anti-dumping duties on Chinese furniture has prompted US importers to shift their orders to other ASEAN countries, including Vietnam, the biggest manufacturer in ASEAN, and the biggest rival of China.

He warned that Chinese may export their products to Vietnam and then re-export products from Vietnam to enjoy preferential tariffs applied to Vietnamese origin products.

"This will be bad news for Vietnam's woodwork industry," he said.

According to Vifores, Vietnam's woodwork exports in 2017 may bring $7.8-8 billion, higher than the targeted $7.3-7.5 billion. The US, China, Japan, the EU and South Korea are the biggest export markets.

Thanh Mai / vietnamnet