Billionaires vye for top "richest" spot
Real estate giants Pham Nhat Vuong and Trinh Van Quyet switched places for top spot as the richest stock billionaire.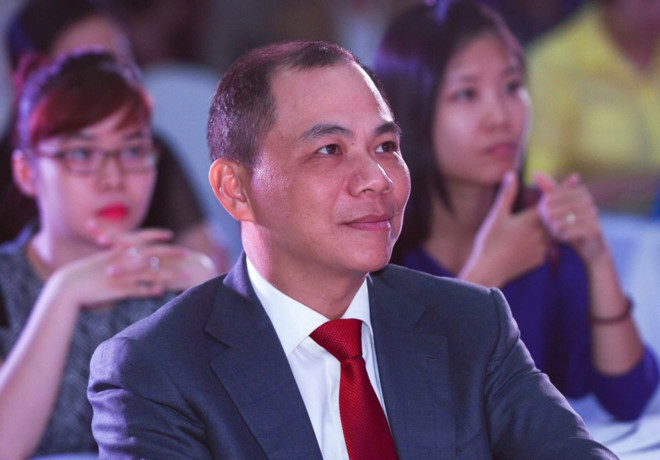 Quyet fell to the second spot as his stock assets dropped by VND20 trillion within one month.

Quyet is president of FLC and FLC Faros. His $2 billion in stock assets began to fall when the day ROS shares of FLC Faros plunged in price. ROS make up 95 percent of Quyet's stock assets.

ROS price decreasing on May 17, when its market price stayed at VND160,600 per share. At that time, Quyet's assets were worth VND47.5 trillion, or nearly VND20 trillion higher than the asset value of the second richest stock billionaire Pham Nhat Vuong.

Just after five trading sessions, ROS price decreased by VND27,000 per share, making Quyet's assets decrease by VND8 trillion.

In the next trading sessions, though ROS price continued decreasing, foreign funds continued buying ROS with the net sale of hundreds of billions of dong.

On June 16, when foreign investors' net sale reached 3 million ROS, the market price of the share dropped to VND97,000, which meant a 40 percent decrease in value compared with one month ago. This was the deepest low of the share since November 2016.

By June 17, Quyet had lost VND20 trillion. His total stock assets have decreased to VND29 trillion, or VND1 trillion lower than Vuong's assets. As a result, Vuong has once again jumped to the No 1 position in the list of the richest stock billionaire.
Vuong and Quyet have been in the No 1 position in turns in the last few years.
Quyet became the richest stock billionaire in November 2016, when the position changed hands for the first time after seven years.

Quyet, with total assets of VND30.9 trillion on November 11, 2016, replaced Vuong to become the richest billionaire. However, one hour later, the VIC share price increased, which increased Vuong's assets rapidly and he rose to the No 1 position.

Quyet became the richest stock billionaire for the second time on November 14, 2016, with total assets of VND33.264 trillion. However, Vuong on December 13, 2016 became number one.

Trinh Van Quyet, 42, was born into a poor civil servant family in Vinh Phuc province. After finishing high school, he went to HCM City where he practiced repairing electronic products and nurtured the dream of going to university.

In 2008, Truong Phu Fortune Investment Company Ltd was established with investment capital of VND18 billion, which was later changed to FLC Group.

M. Ha / vietnamnet